As a professional manufacturer for led industrial lighting solutions, Fireflier lighting have developed several kinds of led high bay lights for global market since 2010. Until now, we have UFO LED High Bay Light, Linear LED High Bay Light,Square LED High Bay Light, E40 LED High Bay Light, LED High Bay Light with Lampshade, and Flat LED High Bay Light. Our various types led high bay light can meet most of clients requirements. We also help clients to customize led high bay light for their special lighting projects.
As the most popular high bay lamp in the market, our Ripple UFO LED High Bay Light has many advantages than others. The most obvious advantage is that we adopt much more leds than others. For example, for Lumileds(Philips) 3030 led, we used 336pcs for our 200W UFO led high bay lamp, while most our competitors use only 224pcs. The IK test for our UFO LED High Bay Light is IK10 while most of led high bay is only IK08. Besides, we have full thermal test for our ufo LED High Bay luminaire to make you better understand the actual heat cooling performance of it. Let's see below test photo:
Since we already mentioned our UFO LED High Bay Lights various functions in the previous article,click here to view details. Let's put the emphasis of this artical to the production process of our UFO LED High Bay Light. Let's make it brief.
We have the 100% full right of the patent regarding this Ripple UFO LED High Bay Light. It is quite convenient for you when you want customize it, such as finishing color, emergency model,installation way, and so on.
For your reference, below is the the mould photo of 200W UFO LED High Bay Lighting:
Thousands pieces of UFO LED High Bay Lights fixture is under production:
PCB board of UFO LED High Bay Luminaire is ready:
Our standard type is with Meanwell power supply which can provide 5 years and up to 7 years warranty maximum:
All our Meanwell drivers are shipped from this warehouse:
After all materials are ready and passed our QC test,we start the final products production:
Below is a final products assembly video for your reference:
We have also at least 72 hours aging test for each UFO LED High Bay Light:
Each UFO LED High Bay Light is marked with label including main factors:(Label can be customized)
Which color do you like?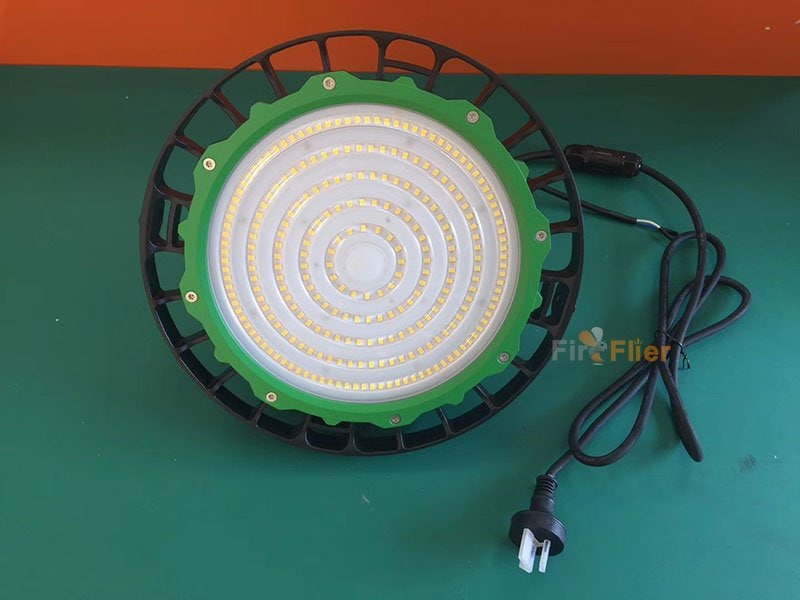 Finally, there is a general video for our Ripple UFO LED High Bay, thanks for your watching! If you have any interest in our UFO LED High Bay Light, please contact us or sent inquiry online. We are looking forward to cooperating with you!