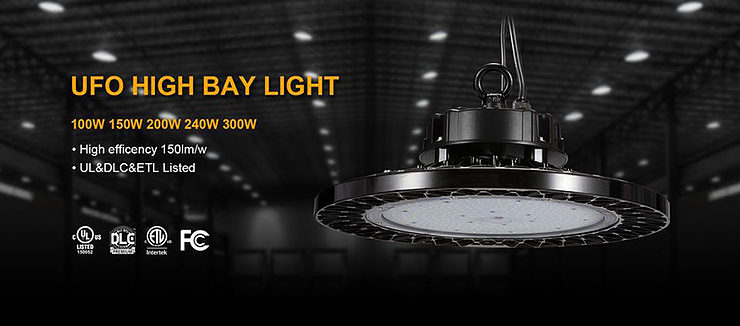 LED lights have been around for a long time. They were first introduced in 1961, and now they are more popular than ever. Today, there are many different types of LED lighting. For example, the LED light was originally infra-red and now it is more visible spectrum lighting. There are also more LED lights that vary in substrate materials, color palate, temperature ranges, and watt ratings. LED lights can be used for a variety of purposes and in a variety of places. The trend of LED usage has spiked in recent years, spreading to sectors beyond the original driving force, such as roads and homes.
Brightness is measured in lumens. 150W Incandescent light bulbs have a brightness of between 2600 to 2800 lumens, while 26W LED light bulbs have the same brightness. And a 150W LED High Bay Light have 22500lm(150lm/w) or even higher 30000lm(200lm/w) in 2021. One factor in deciding to use 150W LED High Bay Light is the common installation height is 20-26ft. A 400W Metal halide lamp is used usually at this height, and a 150W LED High Bay Fixture is perfect to replace it.
In the past, a 20,000 lumen light was considered to be a good number for 20-26ft high commercial lights. The more lumens a lamp has, the brighter it is. The LED High Bay Light produce a 5000K white light, which is just like daylight. One of the aspects that affect lighting is glare. One of the best things about the 150W LED light is its ability to minimize glare and color mixing. The Total Harmonic Distortion is kept low. This results in clear lighting, symmetrical light distribution, and protection for evening viewing.
People are very attracted to the 150W light because of the quality assurance certifications that it has. It is certified by Electrical Testing Labs and Design Lights Consortium, which makes it eligible for sale. A certified 150w LED meets the standards of performance for distribution, longevity, and color. They are all fit to be on the market. Our company offers a five-year warranty for any product light we sell. With these terms, customers can be assured that their lights will last and that they will be safe.
The LED High Bay lamp is triple the average lifespan at 100,000 hours. It also has a great energy-saving capacity at 71% of traditional metal halide lamps. The power factor is greater than 0.90 for an easy energy savings. Heat release of any given light source results in increased electricity consumption. Overproduction of heat means more money is spent on power, increasing the cost of lighting. The 150W LED produces 150 watts of light power without the use of ballasts, unlike other lights that would otherwise require ballasts. With our 150-watt LED light fixtures, customers don't have to worry about power consumption. With the inclusion of a photocell in the fixture, they can expect a reduction in power consumption. A motion sensor can also reduce power consumption significantly.
This lamp has unique features. The shell is strong and it has a heat dissipation mechanism. The modules are spaced appropriately, which reduces the lamp's temperature. This enables the light to work under lower temperatures, which is great for places with a long time cold season.
With the unpredictable change in the environment, a customer doesn't have to worry when they buy our LED High bay light. The waterproof casing is made from cast aluminum, and it has an IP65 rating, meaning that it's safe from dust and water. Lights are often sealed shut when they are made, but not this 150W LED High Bay. It has a removable light casing that allows access to the light motherboard and driver. So in case of problems, it is easier to repair the lamp.
When it comes to lux level, light fixture, and energy efficiency, there should be adequate correlation with the commercial place. As a result, 400-watt metal halides are often used in large industrial areas such as warehouse and factory. However, they are not the perfect solution considering the above mentioned factors. There are different brands of 400W metal halides available. Metal halides are high-intensity discharge lights which initially got 35,000 lumens, but 20,000 lumens after one year and about 13,000 after 5 years.
The 150W LED High Bay Light is a top-selling warehouse high bay light. The 150w has an outstanding color rendering index and wide lighting coverage. One lumen can illuminate one square meter area. Considering this, 20,000 lumens are equivalent to 20,000 square meters. This is much wider coverage than halides.
These 150W High bay lights have been a big help in commercial and industrial areas, and they also promote cost reduction and increased energy efficiency. The 150W LED High Bay Light has grown in popularity and is currently the best option on the market.