Many people want to get more brightness by simply increasing the number of LED High Bay Lighting fixtures in the warehouse, factory, and other industrial areas. However, it would not let you get a better lighting experience! Want to know why?. Well, Using a better and efficient lighting fixture is the solution to your all uninformed lighting problems.
When choosing the fixtures, it can feel overwhelming with so many options on the market today. The easiest way to make things easy on yourself is to know the main do's and don'ts of choosing light fixtures.
Do Remember The Basics
As a business owner and manager, you are most likely to concern to get the 3x of your investments. With the effective lighting, you can get what you have dreamt of. There are some basic features of the LED High Bay Lighting Fixture which you need to keep in mind before coming to any decision such as Wattage, CRI, CCT, and Beam Angle.
Wattage Of the High Bay Lighting Fixture
Many types of lighting appliances are available in the market such as halogen, metal halides, incandescents, fluorescents and much more but LEDs are in trends. Now people are aware of the effects of wattage and lumens.
Some of the people believed that high wattage intake leads to emit the bright lighting, that is totally insane. The lumen output specifies the brightness level of the fixture. Consider getting the high lumen outcome at low energy intake. As an example, Fireflier's LED High Bay Fixture emits a maximum of 38,000lm at the energy intake of 200W, which equals to the brightness of a normal 350W LED High Bay fixture. (PS. this kind of lighting fixture could be an ideal appliance for the high ceiling area >15meters.)
Required CRI
By paying attention to the visual level of the space than you should keep the high CRI (Color Rendering Index) in your mind. The closer a fixture's CRI to 100, the better the lighting you would archive. You can see the difference of different CRI score results in the image mentioned below. CRI specifies to show the true color of the objects.

Specific CCT
CCT (Correlated Color Index) indicates the shade of light. The CCT is being calculated in "Kelvin" which has been differentiated into many shades such as:
* 2700K – 3300K (Warm White Light Shade)
* 4000K – 4500K (Natural White Light Shade)
* 5000K – 5700K (Day White Light Shade)
* 6000K – 6500K (Cool White Light Shade)
These are light shades scale that represents the different colors of the lighting outcome. The shade of light has the ability to set the working experience in the warehouse.
Beam Angle
The beam angle is ignored usually by most of the clients when they are going to make the order. Unlike traditional luminaires(Metal halide bulb, HPS, fluorescent tube, etc), LED High Bay Lighting fixture has a different beam angle, such as 60degree, 90degree and 120degree. Different beam angle leads to different lighting performance. A wide beam angle is usually recommended for a low ceiling area and a narrow beam angle is usually recommended for a high ceiling area.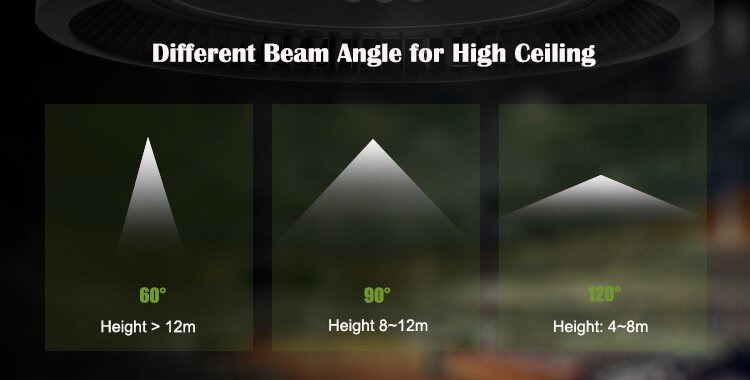 Reflectors
Not everyone asks for a reflector. Actually, the reflector is usually used for traditional high bay fixtures since they are 360degree lighting. The reflector can help to redirect the light to the floor. However, the LED High Bay Lighting fixture light directly to the floor. Thanks to the lens design, you can choose a different beam angle lens instead of a reflector. However, if you require a low glare light, an Aluminum Reflector or Polycarbonate diffuser is necessary.

Input Voltage
Most people accept the input voltage AC90-305V while a small part of people does require an input voltage with AC200-480V.
Don'ts Of The High Bay Lighting Fixture
There are some things that you need to keep in mind while considering the lighting fixture for an industrial area.
Don't Forget Any Area
A space like a workshop requires different types of lighting appliance because of many purposes of usage. If you look at the whole area of a workshop, it does require indoor and outdoor lighting fixtures to illuminate the whole space. Neglecting any space can invite any accidental incidents. It has been reported that most of the accidents happened because of the low lighting and blurry visuals.
Don't Install Too Many Fixtures
Installing too many LED fixtures could lead to overwhelming the employee while working which can cause eye-strain. Nobody wants to be in a too lighting area. Only install enough quantity of the appliance that slightly illuminates the area with an ideal lux level. If you are not sure the lux level needed, you can check this article: How much lux does my room need?
Don't forget to check ratings for high bay fixtures.
Most of the LED High bay luminaires in the market are IP65 rated and some are not waterproof.
Don't compromise on function over style.
It can be tempting to choose a fixture based solely on how it will look in the space, but the function of the fixture is the main reason to choose it. The good news is that there are a lot of fixtures on the market today which will give you style and function such as UFO LED High Bay lighting.
Types of LED High Bay Lighting Fixtures
Planning a lighting solution for the vast space is not as difficult as it seems. Here are some fixtures that you can install to your industrial space.
* LED High Bay Lights with or without motion sensor (for the indoor high bay area)
* E40 LED High Bay Light (to replace the existed Metal Halide or High-Pressure lamp)
* LED High Bay Light with an Aluminum cover or PC diffuser(for supermarket lighting or exhibition lighting)
* LED Corn Bulb with E27/E40 base (to lighten up to the low ceiling area)
* LED High Bay Light with AC200-480V input voltage(for the industrial area with AC347V, AC400V or highest AC480V input)
These are the most recommended fixtures that reduce up to 75% cost on utility bills. Unlike metal halides and any other traditional lighting fixtures, all these fixtures don't heat up after long working hours.
Final Thoughts
We hope that get all the points we have mentioned in the article. In the future, if you plan to replace your lighting fixture just keep all elements we have mentioned, these can help you get the better fixture compared from the current one you are using.