Who knew lighting up any new space is a such challenging task! After all we can't apply the same type of lighting solutions to both homes and commercial spaces, right? Your employees need to see the computer, machines, products, and so much more.
Lighting a space like a warehouse or manufacturing facility is a tall order. These cavernous applications require a layout that must take into account the number of luminaries, light distribution, color temperature, lux level, and other unique specifications. Whether your lighting involves a new construction project or a customized retrofit project, attention to detail is critical to ensuring proper lighting is achieved with an excellent return on investment.
Making wise lighting decisions for a large workspace can enhance productivity while significantly reducing your energy costs. With proper lighting, employees are able to view their work more clearly, concentrate more effectively, eliminate errors, and even increase efficiency. At the same time, it's important to not lose sight of operating costs. LED high bay lighting is a smart, economical choice that will save big over metal halide and fluorescent alternatives.
At Fireflier, as a manufacturer of industrial lighting solutions over 10 years, we monitor the industry closely to bring you industrial lighting products that offer innovative and efficient solutions. We've hand-picked some of the top LED high bays currently on the market that we hope will assist you with your fixture selection. The options we've included may range in terms of style, but when it comes to durability, reliability, and lighting capabilities – all are of the highest standard.
Round UFO High Bays
Gone are the days of giant metal halides and high pressure sodium fixtures. Many people are opting for UFO LED high bays in favor of a lighter, sleeker design. As the name suggests, 'UFO' refers to the round shape of this style of high bay. These aesthetically pleasing, compact fixtures pack the latest LED technology and high-quality light output – essential for today's commercial and industrial applications. They offer one of the best options for high ceilings – usually more than 20 feet – and will ensure an even spread of light throughout the space. UFO LED high bay fixtures are fast becoming the popular choice for illuminating large spaces from retail stores and warehouses to horse arenas and athletic facilities.
Sport facilities using Fireflier's HBL LED high bay lights 150W with 22500lm
Fireflier is the first manufacturer and designer of the Ripple lens(circle lens) which have been popular used in the market since 2014. Our UFO LED High Bay light series have been updated year by year. Until now, we have HBL, AHBL, CHBL, EHBL and our new type FHBL. All our UFO high bay series are extremely durable, impact-resistant, and built with an IP65 rated air-tight housing to eliminate exposure to hardware and crevices where moisture and bacteria can accumulate and cause safety issues.
Fireflier provides a wide power range from 40W to 1000W and different color temperatures for our UFO high bay – 3000K, 4000K, 5000K and 6000K. The UFO high bay light can be mounted via hook, pendant or surface mount to adapt to a variety of applications. It can be used by itself, or with a coordinating polycarbonate refractor or aluminum reflector (sold separately).
For a comparable alternative, we recommend the FHBL Round High Bay. This new generation of round high bay is another great choice for replacing outdated metal halide fixtures to reduce maintenance and energy costs. This fixture comes standard with a polycarbonate lens, and like HBL series, the FHBL Round High Bay can be used in any retail, warehouse, gymnasium or industrial setting. One advantage over the HBL is a slightly higher IP66 rating for wet locations and a modular design of LED Driver and LED source&heat sinker. Both fixtures have a generous five-year warranty, which is something to appreciate whenever you're dealing with harsh operating conditions.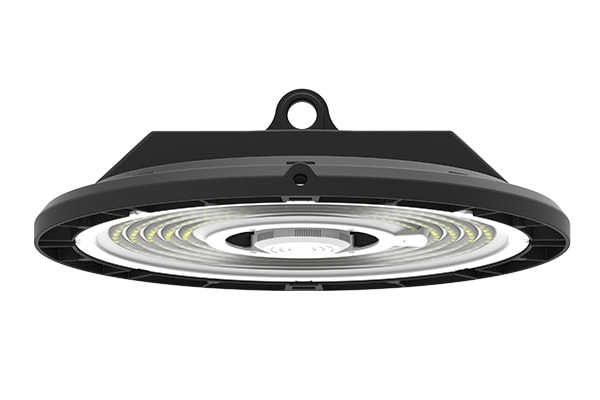 Linear High Bays
Linear LED high bay fixtures offer even and uniform lighting. They are ideal for illuminating larger indoor applications with high ceilings – typically above 25 feet – including warehouses, retail spaces, manufacturing plants, and athletic facilities. The vast amount of space between floor and ceiling calls for a linear LED high bay with a high enough lumen output for quality, bright light to be focused down and out from the fixture. Our linear high bays are a one-to-one replacement for HID and fluorescent fixtures; delivering powerful efficiency and reducing energy use by up to 85%.
Linear LED models can be mounted directly to the ceiling or hung with chains or aircraft cables. They are available in a range of lumen packages, lengths (from <2ft to 5ft) and wattages (from 60W to 200W). Color temperature is usually limited from 3000K 4000K 5000K or 6000K in order to achieve the bright, daylight look that's needed in these types of environments. Eye strain, fatigue, and distractedness are all real concerns that employees face when working under too low light or harsh lighting from outdated fixtures.
Fireflier's Linear LED High Bay Light has a cutting-edge, linear construction that reduces volume by up to 60% – saving you a great deal of valuable shelf or storage space. With three size options and six lumen packages, the Linear LED High Bay Light is designed to replace up to 400W metal halide fixtures and can be mounted as high as 30 feet.
Multiple user-friendly options are available including 0-10V dimmability, surge protection, and battery backup. Linear LED high bay light is also offered with microwave motion sensing. They are important for business owners who want to keep energy costs down. Another convenient feature is a 50,000 rated life. A long rated life is crucial because – while you won't need to do it often – high bays do require extra time and labor to replace.
E40 LED High Bay Bulb
If you want to keep your HID fixture but need improved performance, output, and energy-savings, high- or low-bay LED retrofit kits and bulbs are the perfect products. While less costly than an entirely new fixture and easier to install, they provide virtually the same benefits. These retrofit bulbs and kits come in varying intensities and color temperatures for different ceiling heights and environments.
Fireflier's E40 LED High Bay Bulb is available with different beam angles including 60°, 90° and 120°. Therefore, they don't require your fixture's reflector, which eliminates wasted light. Because of this, you can choose a lower wattage to achieve the same output. 1-10v dimming and microwave sensor is also optional with the E40 LED High Bay Bulbs.
If you have older HID bay lights in your facility and want to upgrade to LEDs, you'll face a dilemma. Either you'll buy new or retrofit your current fixtures. LED bay retrofits have many benefits. One big advantage over new fixtures: they're affordable.
These lights have the same advantages as new LED light fixtures and help you to save on installation. They help lower your facility's environmental footprint. Not only saving energy but reducing dumped older fixtures.
By retrofitting older fixtures with new LED technology, your facility will see a reduction in energy usage of up to 75%. There's also be better productivity, because good light is essential for work efficiency. Light controls integrate into your lighting system, saving of up to 90%.
We're Here to Help
Of course there are other factors to consider when choosing the proper LED high bay fixture. You'll have to determine how many fixtures you'll need and spacing requirements based on the scope of your project. The nature of the work being done and the surrounding environment will also play an important part in deciding exactly which type of fixture to use. For instance, if you'll need dimming capabilities, motion sensors, or if your fixtures must be resistant to weather, wash downs or harsh cleaning solvents. In facilities where color-sensitive work is carried out, something with a high CRI will be extremely useful.
With energy companies offering huge rebates, now is the perfect time to upgrade your existing commercial space to LED. Rebates have the potential to drastically reduce the upfront cost of your project and increase your return on investment. In many cases, investing in energy-saving LED high bay fixtures for your 'back of house' will allow you to shift your budget to other higher-impact areas of your business. With an LED upgrade, you'll enjoy lowered maintenance and energy costs, and avoid safety concerns created by poor lighting conditions.
We don't expect you to have all the answers. At Fireflier, our goal is to provide you with the resources you need to complete your project easily and efficiently. Our certified lighting specialists can help you with technical questions, fixture selection, layouts and quotes. If you have any questions about the products on this list, reach out to our team. We'll help you put together a lighting solution that meets your budget and shipping requirements. Give us a call, or use the live chat feature on our website.