Ensuring quality LED high bay lights, bulbs, and lighting fixtures mean deploying rigorous quality control equipment and testing standards. At Fireflier Lighting, we have put into place a production and QC process that ensures power efficient LED products that last longer and deliver unmatched lighting.
Today, we will introduce you to LED light testing equipment and instruments that help us deliver best lighting solutions to our global LED clients. Have a look and gain a better understanding of our LED manufacturing and testing process:
AC power source and digital power meter
The LED light testing equipment helps our team run full operation tests under varying voltages and ensures that LED products perform at their best even in excess voltage. The LED testing instrument also helps in running dimming test which is important to ascertain optimal LED performance.
Integrating sphere
The LED testing equipment helps in running a vast range of tests including electrical performance test, photometric parameter test, and colour parameter test. All the above tests play a crucial role in ensuring quality LED lights by taking into consideration forward voltage, reverse leakage current, power factor, colour rendering index, radiation flux, and more.
IES test
Running photometric parameter test and electric performance test is important to set high LED lighting standards for testing and certification. Both tests help Fireflier Lighting get light distribution, luminous efficacy, light angle beam, power factor, voltage, and current right. This is something every top LED manufacturer and supplier takes care of, whether in the USA or China.
Aging test rack 
LED High Bay Lights, LED Corn Bulbs, and lighting fixtures delivered without aging put customers at risk of faulty LED products. That's why our team of LED engineers have made provision of 72 hours of aging light source; 72 hours of aging test on IC, capacitor, and resistor; 48 hours to 72 hours for aging leakage; 36 hours for the impact test, and at least 24hours aging test on the complete lamp.
Hi-pot tester and the illuminometer     
While illuminometer helps in running light intensity and uniformity efficient tests, hi-pot tester is used to conduct 1005 voltage resist test according to UL and TUV standard. It is through such tests that top LED companies to control quality and become the best source to buy quality LED lights.
Vibration instrumentation
Assembling is a critical part of building top quality LED lights and hence it is vital to ensure fastness of the assembling. This LED light testing equipment helps our engineers in making sure that LED High Bay Lights and lighting fixtures are in top shape and will have a long lifespan.
Drop test
As the name suggests, this test checks sturdiness of LED tubes and product packaging. Drop test is crucial to avoid LED product damage during transportation and hassle to our clients in the USA, Canada, Middle East, and Australia.
This time let's put emphasis on the Aging Test(Burn in Test), which is usually ignored by many LED Lighting manufacturers.
What is aging test rack? 
The aging rack is dedicated to simulating the products in real conditions involved in the use of various factors on the aging of the product conditions to strengthen the process of the corresponding conditions.
Why we need the aging test?
Electronic products, no matter components, parts or machines, all need aging test. Aging and test is not one concept, aging firstly and then test. Electronic product after manufacturing forms a complete product, which is able to play its role. But users may find a variety of problems after use, most problems occurs in the first few hours to dozens of hours. Later, formulate electronic products aging and test to simulate the using state or equivalent products. This process is done by the product manufacturer. The problem products will stay in factory, products without problems will sell to users, to ensure that the products that users buy are reliable or less problematic, which is the meaning of aging test.
How to make the aging test?
1 Put the LED High Bay Lights one by one on the aging shelf,  connecting them to the corresponding power supply seat.
2 Open the switch of the aging test stand, according to the different input voltage to close the corresponding power switch to check whether each lamp has been lit, while ensuring that the lamp in the aging process full power work.
3 aging test time for more than 24 hours, the lamp in the aging process, the lamp is not less than the pass, power test, each power 20 seconds, power off 20 seconds, in the aging process every 2 hours to To carry out lighting. (Method is to pick up the lamp by hand in the aging frame jitter or appropriate tapping) aging time lamps can not appear dead lights, dark lights, flashing, color cast and other undesirable phenomena.
4 aging according to different lamps according to different procedures for aging, aging is completed, close the aging test stand switch, to be the surface temperature of the lamp down to room temperature, the lamp from the aging test rack removed, placed in the designated location to wait for the next process.
5 in the process of aging, such as the above description of the adverse phenomena should immediately stop testing, the defective products removed from the aging rack and do a good job record bad, bad product delivery service department to deal with.
6 aging staff every 2 hours to do the aging record table.
7 quality department IPCQ every 2 hours inspection of an aging frame, check the aging test is the normal lighting, the aging of the lamps and lanterns to identify the same time, check the aging time of the lamp, the shelf time, the aging records recorded in the inspection On the record sheet, when the abnormal rate of aging exceeds 3%, IPCQ must respond to the situation to the quality supervisor.
8 With the control of the lamps, must be installed according to the installation of wiring diagram aging, after-sales staff must cooperate with the production of aging.
Fireflier Lighting has more than 24 hours aging test which they do carry out before packaging and shipping their LED high bay lightings and other lights. This is done to ensure that customers receive high-quality products. Therefore, the aging test is an integral part in all the production processes carried out by the Fireflier Lighting. However, we cannot guarantee 100 percent efficiency since there is always an error. However, we are trying all we can to solve this error within the shortest time possible.
Below are some aging test photos of Fireflier Lighting products:
Ripple UFO LED High Bay Light 60-240W
Titan UFO LED High Bay Light 300W-480W:
Linear LED High Bay Light 80-200W: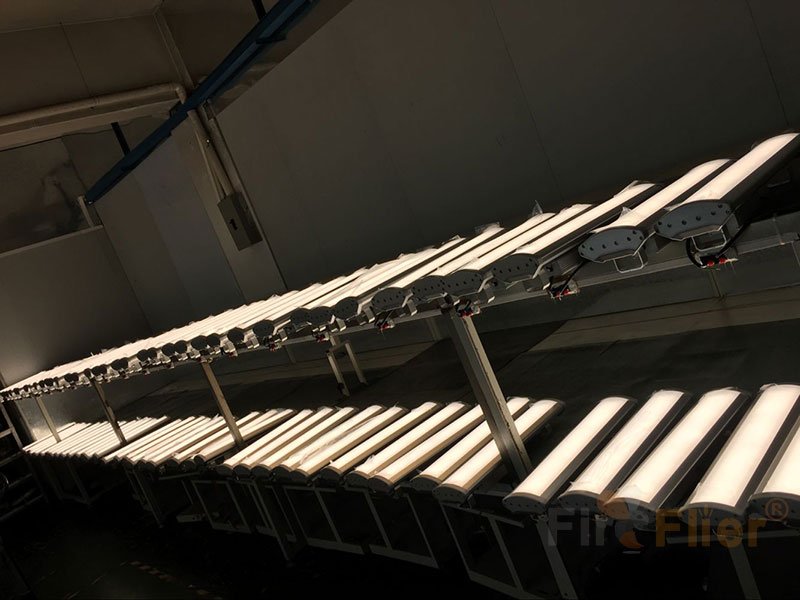 E40 LED High Bay Bulb 50w-300W: