When comes to the reflectors of LED High Bay Light, there are an Aluminum reflector, PC reflector(Prismatic Polycarbonate reflector), and Prismatic Acrylic Reflector. These reflectors are usually used for the traditional type LED High Bay Lights which with a neck(heat sink) and now also for UFO LED High Bay Lights.
Why do you need a reflector for your high bay light?
Actually, reflectors or diffusers are used generally for the traditional high bay lights, such as metal halide lamps or high-pressure sodium lamps (HPS). Because these lights beam angle is 360degree, they need a reflector to redirect the light to the required lighting area. With a reflector, the inside bulbs can be protected well also. Last but not the least, reflectors are used also to lower the lighting glare.
Nowadays LED high bay lights are used popularly in the market due to a lot of advantages compared with the metal halide and HPS high bay lights. There are many types of LED High Bay Lights including UFO LED High Bay Lights, Linear LED High Bay Lights, E40 LED High Bay Lights, and Bell-type LED High Bay Lights. Reflectors are usually used with UFO LED High Bay Lights and Bell-type LED High bay lights.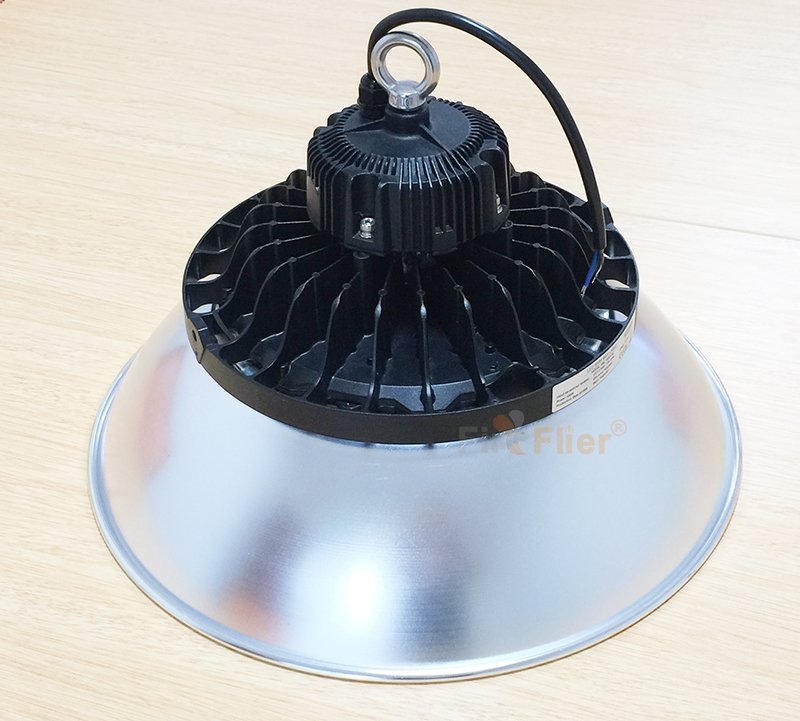 But for LED high bay lights, because they already have an optic lens to adjust the beam angle(mostly 60°/90°/120°), so the reflector is not a necessary part for them. Some people still use reflectors for LED high bay lights because they used to the old style of traditional high bays. And others use it to lower the lighting glare. Therefore, the LED high bays with reflectors are frequently used in the sports field. LED High Bay Lights with Polycarbonate Reflector or Acrylic reflector are used frequently also in the shopping mall due to a beautiful looking and lower glare.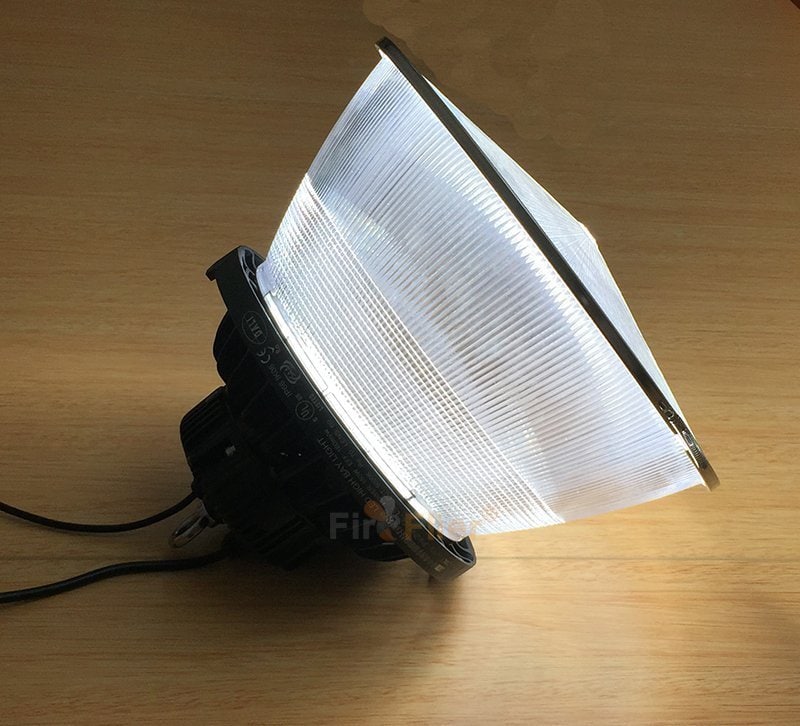 Two types of Prismatic Reflector
When comes to the prismatic reflector(also called a lens, lampshade, diffuser, or dome) for high bay lights, you will find there are two types: one is a Prismatic Polycarbonate reflector and the other is Prismatic Acrylic Reflector. What is the difference between them?
It is important to compare the material benefits of both acrylic and polycarbonate materials before finalizing any decisions. Acrylic and polycarbonate materials are often considered top material choices for a wide range of applications where the size, weight, and strength of the material requires deliberation. When comparing acrylic and polycarbonate luminaire lenses, it is important to address the overall desired benefits of the user.
Acrylic light diffusers control the brightness of harsh lighting to create a soft lighting effect. They can also protect lighting fixtures from dust and help conserve energy by providing more even lighting that reduces the need for additional fixtures. Comparatively, polycarbonate diffusers exhibit higher impact resistance, stiffness, moisture resistance, and increased heat resistance.
Distinct Advantages of Acrylic vs Polycarbonate Plastic Lighting Fixture Lenses 
The use of acrylic or polycarbonate reflector for your high bay light applications will depend on the features that you would like to incorporate into the application's overall functionality. Both acrylic and polycarbonate reflectors provide extremely good strength-to-weight ratios while offering tremendous flexibility and excellent light transmission and diffusion. Some of the advantages of both materials are highlighted below.
Acrylic Reflector Light Fixture Material Advantages
Acrylic lighting diffusers offer distinct benefits that separate this material from polycarbonate. The acrylic lens has a high gloss finish and is more translucent than transparent, making it ideal for light diffusers. Other benefits include:
Increased durability against scratches
Improved flexibility
UV resistance

(

no yellowing or discoloration from the sun

)

Less expensive than polycarbonate
Polycarbonate Reflector Light Fixture Material Advantages
When comparing polycarbonate to acrylic material, polycarbonate is much more resilient than acrylic, making it ideal for highly demanding applications where the impact is a requirement or flame retardance. Some of the benefits of polycarbonate plastic diffusers for LED high bay lighting fixtures include:
Increased strength over acrylic
Improved versatility
High impact resistance
Increased stiffness & moisture resistance
Non-flammable

,

(

FR grades are available

)

can be exposed to high temperatures
Can be drilled without cracking
Making the Correct Choice: Acrylic vs Polycarbonate Reflector
When compared to standard glass, both acrylic and polycarbonate materials provide many benefits that standard glass does not afford. These advantages include increased light filtration, impact resistance, increased strength, and improved weight and viscosity flow characteristics. However, there are several distinct differences that separate acrylic from polycarbonate lenses. These differences do not inherently make one material better than the other. Each of the material's physical properties allows for better performance standards under specified parameters.
Learn More About Reflectors for High Bay Lighting Fixtures Today
Contact us for more information regarding the pros and cons of acrylic and polycarbonate high bay lighting fixture lenses. At Fireflier Lighting we stock both acrylic and polycarbonate reflectors of UFO LED High Bay Lights to fit your project requirement needs.